Birmingham's large primary schools 'bad for pupils'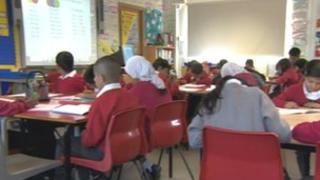 A teaching union has said "supersized" primary schools in Birmingham are detrimental to pupils who go there.
In 2010 Birmingham City Council said it would create 7,000 extra school places by the year 2020, meaning some primary schools now have nearly 900 pupils.
The Association of Teachers and Lecturers (ATL) said the primary schools were becoming more like secondary schools.
But one head teacher said his school had benefited from having extra pupils.
No-one from the city council has yet been available to comment.
Jean Roberts, of the ATL, said she sympathised with the council because as there was no money available to build new schools, its only option was to add capacity to existing ones.
However, she said: "A primary school is where children get to learn to be part of a community.
"They get to know the children, they get to know the staff and what's going to happen is that primary schools are going to become more like secondary schools... where it is more difficult for them to know everyone's names and the head and staff will not necessarily know all the children."
Class size rules
Ms Roberts said she also believed large primary school sizes had a negative impact on pupils' behaviour and said many children with special needs benefited from being in smaller schools.
The average size for a primary school in England is 224 pupils. The Department for Education sets rules on class sizes, meaning schools cannot go beyond 30 pupils per class.
Starbank Primary, in Small Heath, Birmingham, currently has 885 pupils, making it the biggest outside London, and is predicted to grow to more than 1,000 within a year.
This term the school opened a new site half a mile away to cope with its growing numbers.
Head teacher Gerry Hudson said the school had benefited from extra facilities by taking on extra pupils.
He said: "The class sizes are 30 so the amount of pastoral care is exactly the same as in a school with 200 or so."
He added that by having a larger school, there were more career opportunities available for staff and so could attract "very good quality" teachers.
The authority's aim to have the extra school places will mean a total of 25 schools having to increase their intake.