Birmingham Small Talk Nurseries assaults spark CCTV call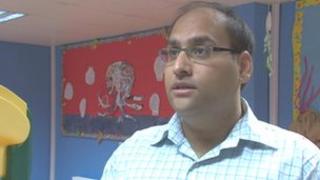 The head of a nursery where a worker was convicted of assaulting toddlers said CCTV should be fitted at all such premises.
Kehren Sajid, 31, was given a 12-month community order on Tuesday for assaulting four children at Small Talk Nurseries in Handsworth last October.
Her behaviour was spotted by staff on CCTV, Birmingham Crown Court heard.
The nursery's managing director Ranjit Singh said the cameras helped safeguard children and staff.
Mr Singh said he and other managers had been shocked to see Sajid's "totally unacceptable" behaviour when they were looking at CCTV over an unrelated matter.
Sajid was immediately suspended and police contacted.
"The most satisfaction comes from knowing she has been convicted and will never have the opportunity to work with the children again," he said.
Nicola Health, senior crown prosecutor from West Midlands CPS, said after the case: "The footage was the key evidence in this prosecution as it showed Sajid handling the children in a very rough manner, examples of this being a child thrown on to a bed, children being carried or held in the air by one arm."
Mr Singh fitted CCTV in play and office areas at the nursery and believes about 90% of nurseries in the West Midlands have taken similar steps.
He said following last October's incident, staff watched the footage every two weeks to check things were running smoothly.
Mr Singh added: "Our policies and procedures are robust as proven through the handling of this delicate case and we will continue to ensure that children's welfare is paramount.
"We hope the public recognise that the nursery acknowledged the situation and acted immediately as it came to our attention."
He said the case had been a difficult time for all involved and nursery staff had supported each other.
Mr Singh added he had increased staff from 13 to 15 to provide "enhanced protection", adding no children had left the nursery as a result of the case.