Birmingham residents "positive" after HS2 meeting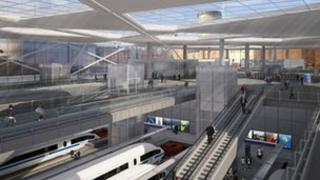 More than 100 people attended a meeting to to express concern over the planned HS2 high speed rail terminal in Birmingham city centre.
Resident of Digbeth said they were worried about the size of the Curzon Street station and the fact it had no planned exits into their district.
The residents' association fears it will funnel people away and isolate the area from the rest of the city centre.
HS2 Ltd said the scheme would help regenerate the district.
Representatives of National Express and the city council also attended the meeting organised by the Digbeth Residents Association.
The association said it was not against the concept of HS2, but wanted to see its concerns addressed.
It is worried the size of the station building will mean people will have a long walk to get round it and that Digbeth businesses will suffer as passenger exits will lead people away towards New Street and Moor Street stations.
'Huge opportunity'
Treasurer Gaby Butler said: "We had very good discussions, we will keep talking to them and we will find solutions.
"We are positive and we are hoping that HS2, if it's coming, is going to bring a positive effect to the area.
"I'm 100% confident that we will benefit from this, that is why we are collaborating with them. We can make it work for Digbeth."
Mark Barrow, strategic director of planning and regeneration at Birmingham City Council was at the meeting.
He said: "I think HS2 is a huge opportunity for the city.
"We are working really hard to make the best of it for people who are directly affected."
In a statement, HS2 Ltd said it had outlined proposals for residents, highlighting the opportunities for the regeneration of the area and was advising them on how to get involved.