West Midlands fixed speed cameras switched off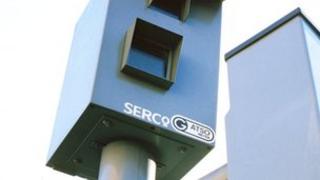 Plans to switch off all West Midlands fixed speed cameras are an "unfortunate illustration" of how budget pressures are jeopardising road safety services, a safety expert said.
About two thirds of the 304 speed cameras in the police force's area have already been turned off.
But from April only mobile speed cameras will be used.
Kevin Clinton, from the Royal Society for the Prevention of Accidents, said casualty figures showed cameras worked.
The move, which involves switching off all fixed cameras in Birmingham, Solihull, the Black Country and Coventry, is expected to save about £1m a year.
It comes as the long-term future of fixed cameras in the area is considered and follows a 50% reduction nationally in road safety budgets last year.
The decision was made at a meeting of a committee of the West Midlands Road Safety Partnership Board.
A report to the meeting said it would cost at least £600,000 to remove the cameras, which would be done over several years. Some inactive cameras will be kept to act as a speeding deterrent to drivers.
'Harming essential services'
It said an alternative - to upgrade the existing cameras to use higher-grade film - would have cost an additional £580,000 a year in maintenance costs.
Mr Clinton, the head of road safety at RoSPA, said that a reduction in road safety budgets was "harming essential road safety services".
He added: "All local authorities and police services are under pressure to make cuts and save money but RoSPA believes that cameras should continue to be used where casualty statistics show they are needed."
Mr Clinton said speed cameras helped to save lives because speeding "significantly" increases the risk of an accident happening.
He added that reducing the number of cameras might also lead to a fall in the numbers of motorists taking speed awareness courses "that help them to avoid speeding in the future".