West Midlands PCC Bob Jones scraps business partnering plans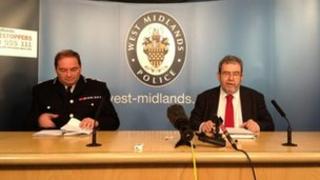 The West Midlands police and crime commissioner (PCC) has scrapped the force's plans for business partnering.
But Labour PCC Bob Jones also said "new options" would be considered which could mean private contractors providing technology for the force.
At a news conference, Mr Jones said: "I will not exclude private suppliers if that enables us to do the best for officers and local people."
Speaking on his first day in the job, he said the plans lacked "clarity".
In September 2011 the West Midlands Police Authority approved plans for the force to explore private partnerships.
'Political decision'
Mr Jones said: "There was a certain lack of clarity as to what [the programme] would have done - there wasn't a proper business case from the start."
He added that the money spent on the business partnering plan so far would not be wasted.
In an interview with BBC WM, Chief Constable Chris Sims said: "I think what [Mr Jones] has done is he has made a political decision; he has halted the programme in its current format and asked me to come back in January with some choices."
He said the business partnering programme was "never about outsourcing".
Mr Sims said: "Innovation and technology were always the key components [of the plans] and me and the PCC are utterly committed to the radical changes West Midlands Police needs.
"We need to make a really big shift in the way we use technology.
"Mr Jones doesn't wish to see staffing in custody change but he's open to technology changes that will alter the way custody works."
He added that he would present the options about technology and innovation again to Mr Jones in January.
Asked about his reaction to the PCC's decision to scrap his plans, Mr Sims said: "I've worked with Mr Jones for well over 14 years - he's committed as I am to serving people in the West Midlands.
"Both of us want to make this partnership work."