'Community spirit' fuels Wolverhampton soup kitchen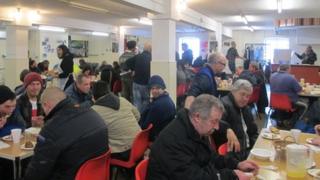 As snow and ice grip pavements in Wolverhampton in temperatures hovering around -2C, about 80 people fill the dining room of a city centre soup kitchen.
Mainly men, clad in coats and hats, the visitors sit around bread-filled tables. There are also families with young children and a woman with her baby.
Brother Stephen Brennan, who has worked with the Good Shepherd Ministry in the city for 10 years, says grace before the food is dished out.
"For the food we are about to receive, the company we share and for all your blessings - we give our thanks," he prays.
The atmosphere is warm and jovial, as volunteers serve chicken and pasta soup and samosas followed by hot puddings. The visitors can also enjoy mince pies, cakes and hot drinks.
Patrick O'Brien, 59, is among those at the tables. He started coming to the kitchen after the death of his wife Catherine in 2011 after 41 years of marriage.
"It was very hard," he said.
Mr O'Brien also lost his home as it was inherited by his wife's relatives.
"I was in a hostel for the homeless and some of the lads there told me about the kitchen," he said.
Now living in a flat, he said eating at the centre helped him cope and he also enjoyed the company.
'Times we live in'
The ministry, at the Methodist Centre in School Street, also provides food parcels and has drop-in facilities where homeless people can shower, do washing and pick up donated clothes and bedding.
According to Wolverhampton City Council, during 2011-12 905 people became homeless in the city, compared with an average of about 1,350 a year between 2001 and 2009.
However, the number of people with homes - but unable to feed themselves - appears to have grown.
Brother Stephen said the dining room was usually full at the twice-weekly soup kitchen, while demand for food parcels had steadily increased. In January 2011, 4,394 people received parcels, but last month it had risen to 6,527 people.
"It reflects the times we live in," he said.
He said people from a wide range of circumstances used the services, including eastern European workers unable to claim benefits and families who had fallen on hard times.
"People are struggling to get jobs, while others are struggling to pay bills," he said.
However, he added: "Our business is to feed and not to do any kind of analysis."
The energetic Irishman is part of the congregation of the Little Brothers of the Good Shepherd (LBGS) - a Roman Catholic institute involved in ministries to the poor in several countries.
The congregation's motto is "Charity Unlimited", and indeed Brother Stephen said the city project aimed to help all who came to it.
However, anyone who arrives at the soup kitchen drunk is not admitted, while aggression or rudeness are not tolerated.
'Very generous'
As demand for the ministry's work has increased, so have contributions of food, time and money from residents, businesses, schools, hotels and agencies.
About 80% of the food is donated, with products near their sell-by date given by local stores, including the Co-op, Sainsbury's and Greggs.
Brother Stephen said there was a "good spirit" in the city for the project.
The ministry was supported by groups from all different religious backgrounds, including Sikhs, Hindus and Christians, he said.
Warburtons bakery gives 20 crates of bread every week, while West Midlands Police has donated 60 sleeping bags for the past two Christmases, he said.
"The response from the community is very generous," he said.
"People are not looking for glory. Many people just come with bags of food to the door."
And people such as Philip Ferriter, who has been using the kitchen for three years, are grateful.
Mr Ferriter has been homeless "on and off for nearly 20 years" and spent the previous night in a bus shelter, under blankets and a sleeping bag.
"I'm 47 now and I do feel the cold," he said.
He sometimes stayed at a friend's home but said six of his relatives had died in recent years, so he had lost some support and stability.
Meanwhile, Edward, 51, began using the kitchen after losing his job as a solicitor. Carrying a folder containing qualification certificates, he said he was "always looking for opportunities" to work, but employers were put off by his bone disease which needed strong medication.
He felt "very guilty" about using the service but said his rent took most of his benefit money.
"If it was not for this organisation here, I'd be living on £3 a week and giving the rest to my landlord," he said.
Brother Stephen said the ministry was helped by about 40 volunteers, including doctors, police officers and retired nurses who were the "lifeblood" of the service.
Mani, a volunteer serving food, explained how he got together with friends and cousins to put money into the kitchen. Working with an Indian food caterer, the group provides the samosas every week.
The volunteers also included young people involved in a 12-week personal development course with the Prince's Trust.
Tyrone Stanley, 17, of Wolverhampton, who is hoping to work in hospitality, said he had enjoyed helping people but had been surprised at the poverty in the city and that people who were not homeless would need to use the soup kitchen.
"That was a shocker to me," he said.