Birmingham City Council £200m short to pay equal pay bill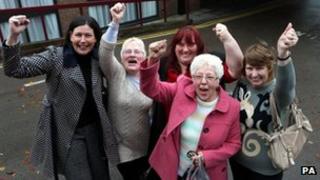 Birmingham City Council is facing a shortfall of about £200m to settle equal pay claims brought by mainly women who missed out on bonuses.
The authority has to pay at least £757m after 174 people won a ruling at the Supreme Court last October.
It announced plans to borrow £429m last year but has failed to get government approval to take out further loans, the BBC's Elizabeth Glinka has learned.
The ex employees had worked in such jobs as cooks, cleaners and care staff.
They discovered they had been denied bonuses given to staff in traditionally male-dominated roles such as refuse collectors and street cleaners.
'Should be grateful'
In announcing the cost of the equal pay bill in November, council leader Sir Albert Bore said the ruling had left the Labour-run council in a "horrendous position financially".
He said the authority could only afford to borrow £429m, and would have to get special dispensation from ministers to borrow a further £328m.
The Secretary of State for Communities and Local Government, Eric Pickles, told the House of Commons last week it had "stumped up £100 million to help Birmingham in this process" but the council would have to find the rest of the money.
He said: "We will be prepared to allow Birmingham to pay off this sum, which other councils dealt with sensibly over the past 20 years by the sale of assets. Birmingham should be grateful for that."
The city council said it would be inappropriate to comment while it was still awaiting official confirmation from the government.
Conservative councillor Randal Brew said if schools and council housing were excluded, there were assets worth about £4bn that could be considered.
"Included in there are some very substantial and famous buildings, but also some very substantial investments in companies we have built up, like the NEC and the airport," he said.
The authority's assets also include the Symphony Hall, the National Exhibition Centre and the International Convention Centre (ICC).
It also has shares in businesses such as Birmingham International Airport.