Birmingham LGBT new health and wellbeing centre opens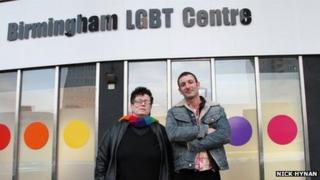 A new centre to help with health issues faced by Birmingham's lesbian, gay, bisexual and transgender (LGBT) community has opened.
The city's LGBT group said its community had high rates of self-harm, depression and attempted suicide.
It said that many people felt that mainstream GP services "did not adequately meet their needs."
The new centre on Holloway Circus in Southside has a cafe, clinics and a counselling service.
Steph Keeble, director of Birmingham LGBT group said: "What we wanted to do was provide health services in a safe and comfortable environment.
"We're not just looking at physical health but emotional wellbeing so it's much broader than just a classical health approach that they would get from a GP."
The project was funded by Birmingham City Council and the Big Lottery Fund's Reaching Communities Programme.
Work has started on installing a sports hall in the basement after the centre was awarded a grant of £43,000 by Sport England.