Kraft and Cadbury: What does the future hold?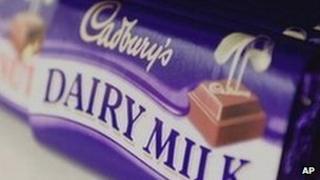 Three years since Cadbury was taken over by Kraft, despite multi-million pound investment, workers in Birmingham still have concerns about the future.
A new packaging line has been installed at the Bournville plant, which has now also become the centre of the firm's research and development arm.
In 2010, when Kraft controversially bought Cadbury for £11.5bn, it said there would be no compulsory redundancies in manufacturing for two years.
A year later, it said 200 jobs would have to go but it was making a UK-wide £50m investment - £14m at Bournville. So what does the future hold for the chocolate giant?
Workers were told earlier this month that the "pace of change" will be "ramped up" this year, which has left many apprehensive about their jobs, the Unite union said.
Peter Taylor, union convenor at Bournville, said the last three years have been difficult as staff wait for it to be made clear where the jobs cuts are to happen.
'Ramp it up'
"At a meeting in January, the company told us that they believe the pace of change was going too slow, as they see it, and they would be ramping up this year's changes that they need to satisfy the business," he said.
"So far only 20 people have gone and management continue to analyze the company's efficiency which leads some to worry.
"It's not been as bad as anyone thought but that doesn't mean morale in the factory and general opinion is low.
"The investment has come in and people know technological changes would mean less jobs on the shop floor.
"They're also looking at what everybody does in every room.....however, what's happening at Bournville is happening everywhere.
"If they [Kraft] get more than 180 offers [from staff] to go and they can pay it, they would do it."
In March last year, Kraft announced that it had split into two independent companies.
One focuses on its North American food business, retaining the Kraft name, while Cadbury is part Mondelez, the global snacks arm with the name chosen by staff.
Professor David Bailey, from Coventry University Business School, said he was pleased Kraft had divided the company, stepping back from its "big is beautiful" philosophy.
The firm owns brands including Kraft and Philadelphia cheeses, Capri Sun, Trident gum and Oreo biscuits.
He said: "Cadbury or Mondelez is a significant player in the UK.
"I want them to be successful, they have excellent research and development here now.
'See it though'
"I think two of their five global research centres are here, there's a new packaging line at Bournville which is also the centre of the development and design of products so that's all really positive.
"I'm not saying however that the takeover was a good thing - I'd rather it stayed as Cadbury.
"Kraft seemed to believe that 'big is beautiful' which was something I've always criticised and I'm glad that they have realised that isn't the best way and split the company.
"But now Mondelez is doing what Cadbury could have done without being taken over."
Mr Taylor said he was happier they were not part of the US side of the business.
He said: "We're glad for the investment here on site and we are aware that the European factories can make things cheaper. Kraft has the capacity.
"But we've not had many Kraft products that we'd like to make here offered to us yet.
"What we do understand is most of the products made at Bournville are sold in this country.
"We've gone from Cadbury to Kraft to Mondelez, now we have become the European arm of Kraft and we see that as being better than being under American ownership.
"I think we're probably in a slightly better position that we were.
"We've the technology and I think we have experts to do it here, it's whether Kraft are going to believe in the people of Bournville and let them see it through."
A spokesman for Mondelez said Bournville was "not a site in decline".
"It won't be a research and development site, it's manufacturing as ever," he said.
"Bournville is known for chocolate and will continue to be known for chocolate. It is essential to our success."
He said the company expected to make the job cuts through voluntary redundancies.