Bullets found in Digby Park, Birmingham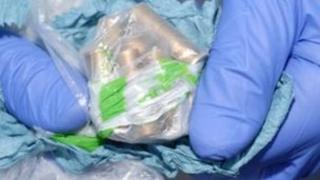 Eighteen bullets have been found in a Birmingham park.
The bullets were found in a plastic bag hidden under a tree in Digby Park, Bordesley Green, just after 10:00 GMT on Wednesday.
Part of the park was closed while officers and a sniffer dog searched for the bullets as part of an intelligence-led operation, a police spokesman said.
Det Ch Insp Nick Walton said a major investigation was under way to find out who left them there.
"Gun crime is falling in Birmingham but every one of the bullets seized represents at least one life saved," he said.
The 9mm and .38 ammunition was found under the tree next to a footpath leading into the park from Floyer Road.
The bullets were sent forensic analysis to search for fingerprints, traces of DNA and any connection to firearms offences in the UK.
Mr Walton added: "There is no indication how long the bullets had been there but this is a popular, well-maintained park with a large children's play area.
"With this in mind, we are appealing for anyone who uses that park and has noticed suspicious activity to get in touch."