Home-Start 'may cut city schemes' in Birmingham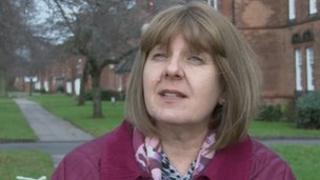 A charity says it could have to close schemes which support hundreds of children in Birmingham if it loses vital funding from the city council.
Eight Home-Start schemes have been identified as being at risk of losing funding when the council unveils next year's budget.
Home-Start family services specialist Julie Garbett said if they closed families and children would suffer.
The council said it had to find £110m savings in 2013/14.
A decision has not been made on which charities will be affected, but those at risk have been identified ahead of the council's budget which will be unveiled later this month.
Across Birmingham, Home-Start volunteers support 1,075 families with 2,209 children.
Ms Garbett said many of the families were referred by health visitors and social workers.
People helped include isolated parents, such as those living in a new area, and new parents with twins or triplets.
In Birmingham, the charity works with other agencies to support 154 children on child protection plans.
Ms Garbett said many of the families did not get help from statutory bodies and "may fall through the net" if the eight schemes closed.
"They choose to come to Home-Start, they might not chose to engage with services that they may see as having a threat to them," she said.
Ms Garbett said the charity had demonstrated to the council that last year it raised about £300,000 towards its funding.
The schemes were "very cost-effective", equating to under £4 a week for each child, she added.
'Absolutely wrong'
Home-Start's bid has been supported by Jack Dromey, the Labour MP for Birmingham Erdington.
He said: "Home-Start is a lifeline to families bringing up their children, often in poverty.
"It's absolutely wrong that a vital service should be at threat because the government has imposed the biggest cuts in local government history - £310m on Birmingham."
The Labour-run city council said it was facing "significant financial pressures" as a result of national budget reductions.
A spokeswoman said: "Despite the severity of the challenge facing the council we are committed to working with the third sector and acknowledge the important role it plays in the city.
"However, organisations receiving funding must demonstrate they will provide the right outcomes for the people in most need, meet the council's priorities and provide value for money - funding cannot be based simply on previous funding history."
A spokesman for the Department for Communities and Local Government said spending decisions had "not yet been determined" and said the council was "making these figures up".
The spokesman added: "However, every bit of the public sector needs to do its bit to tackle the deficit, including local government which accounts for a quarter of all public spending."