Dog microchip plans backed by Birmingham City Council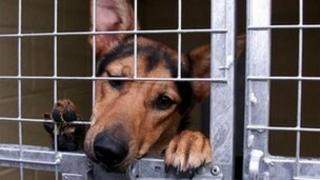 Law changes meaning every dog owner in England will have to microchip their animal have been welcomed by Birmingham City Council.
The government said the move - which is due to come into effect in April 2016 - aimed to cut the growing number of stray dogs.
Its figures reveal more than 100,000 dogs are dumped or lost every year.
The local authority deals with more than 3,000 complaints about stray or missing dogs a year.
Laws should also require dog owners to update the database, the council said.
Vicki Alwood, senior animal welfare officer at the council said: "We think it's a good step in responsible dog ownership," she said.
"We would also like to see supportive legislation ensuring that people maintain the database.
"Because I have to be honest, sometimes if people move house or if they sell the dog they don't always contact the database and provide new details and that can be quite frustrating for us."
The growing number of dumped or lost dogs costs the taxpayer and welfare charities £57m a year, the government said.
Under the plans, owners who refuse to comply with changes to the Animal Welfare Act face fines of up to £500.