Birmingham City Council has to save £615m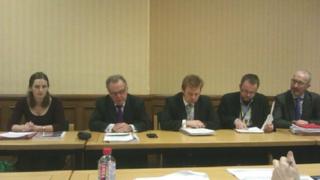 Up to 1,000 jobs are likely to be cut by Birmingham City Council over two years under a £102m savings plan.
Unveiling the 2013-14 draft budget, Sir Albert Bore, leader of the Labour-run council, said the move followed "hugely significant" government cuts.
Cuts are set to include £1m to children's centres and about £2m savings from waste collection changes.
The council anticipates having a "funding gap" of £615m by 2017, £15m more than it expected in October.
Green waste charge
The authority said there would be no rise in its share of the council tax bill for city residents. This excludes precepts added by police, fire and parish councils.
The authority decided to accept a government grant to freeze the tax at the same level as 2012-13.
Sir Albert said: "I don't intend to play politics with the council tax system."
He said the 1,000 predicted job losses would put council job cuts over the next few years "beyond the 5,000" previously suggested, but added it was difficult to give an exact figure.
In October, the council said it was looking at a total of £600m savings to be made by 2017.
The £102m cuts, which represent 10.5% of the 2013-14 budget, will see residents who want garden waste collections pay a £35 annual charge from early 2014.
The authority said the charge was "in line with other councils" and was expected to save about £400,000 a year.
The council will no longer supply black and green waste sacks to residents, which is expected to save £1m a year over the next four years.
Sir Albert said during its consultation over the proposed cuts, the authority had listened to concerns about young people - and their future was the "top priority".
As part of this, a £15m fund would help encourage firms to take up young apprentices, he said.
'Heavy heart'
Sir Albert said it had also listened to concerns for the "most vulnerable" in society. In many areas of welfare and care the authority had aimed to make savings in the way it worked with other agencies.
The council plans to save £500,000 in disabled children's services, including £76,000 through "staffing efficiencies" in the disabled children's occupational therapy team, which it said would not impact service users.
Meanwhile, a new festival would replace Artsfest "at a lower cost".
Sir Albert said: "A number of the cuts have been made with a very, very heavy heart."
There were "no black holes" in the budget, he added.
"It is based on transparency and honesty," he said. "We want to be upfront with the residents of Birmingham."
He said the cuts to services resulted from government cuts which "are changing the face of local government".
However, he added it was "not all doom and gloom" because the council was seeing some positive results of working with partners, such as the creation of thousands of jobs in new economic zones.
The budget will go before the cabinet and full council and is provisionally set to be signed off on 26 February.
'Crying wolf'
Labour took over the running of the council, the UK's largest local authority, in May from a Conservative-Liberal Democrat coalition.
The council also unveiled a letter sent from authorities in several core cities, to Eric Pickles, the minister in charge of local government, about the level of cuts.
The letter, co-signed by Sir Albert, said the cuts were "creating a financial crisis that threatens the economic and reform agendas" in the cities.
It also said the cuts were "significantly greater" than Mr Pickles' department had suggested.
Local Government Minister Brandon Lewis said ministers had been "repeatedly clear" that this was a "fair settlement to all parts of the country - rural or urban, district or country, city or shire".
Mr Lewis said local authorities with "significant reserves" were "crying wolf and letting their residents down".
However, Sir Albert said Birmingham's reserves were already lower than they should be and were not an option to help prevent further cuts.