Lenny Henry to get the freedom of his home town Dudley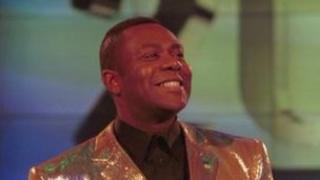 Comedian and actor Lenny Henry is to be awarded the freedom of his home town of Dudley.
He was nominated in September in recognition of his "outstanding contribution to charity" and services to entertainment, the council said.
Dudley councillors agreed to honour him at a meeting on Monday.
Mr Henry described the news as "bostin", adding that he held "a special place for Dudley in my heart".
He said: "These Black Country thoughts have helped me to endure through good times and bad.
"Memories of Buffery Park and Douglas Road, Constitution Hill and Hall Street and the Canal tunnel and my best friends have permeated my stand-up routines and writing.
"Dudley is a touchstone to me and I hope that comes across in my work."
He was part of ITV children's programme Tiswas, starred in The Lenny Henry Show and Chef on BBC TV and has presented appeals for Comic Relief.
It is thought Henry, who won the New Faces talent competition in 1975 at the age of 18, will be given the award later this year.