'About time' Bomber Command war veterans honoured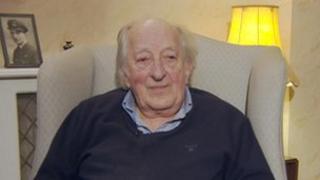 A 90-year-old war veteran says it is "about time" he received a medal nearly 70 years after he served in Bomber Command in World War II.
Peter Zolty, from Solihull in the West Midlands, took part in raids over Germany in 1944 in which more than 50,000 men lost their lives.
On Monday, the government confirmed the veterans will be recognised for their bravery with a new medal and award.
He blamed a "collective sense of guilt" after the war for the delay.
He said: "I think it was was about time and I can't really say any more than that really.
"I think it was a collective sense of guilt after the war and to my mind, not Churchill, it was the Attlee government."
During the war Bomber Command was tasked with attacking Germany's airbases, troops, shipping and industry.
Veterans who served on Arctic convoys will also receive medals as part of the announcement by the Ministry of Defence (MoD).
More than 3,000 men died in the Arctic as they kept supplies flowing through German blockades to Britain's ally, the Soviet Union, in Operation Dervish.
It is thought about 250,000 men survived both missions - though many have since died.
Speaking in Parliament on Wednesday, Prime Minister David Cameron said he welcomed the awards, saying they should be issued as soon as possible.
Mr Zolty said he completed 34 missions on board a Lancaster bomber as a navigator.
"My main purpose was to get us to the target area, on time and on course and more importantly get us home again.
"I just sort of felt...nothing could harm us.
"It was an attitude of mind."
The MoD said it had agreed on a design for the new Arctic Star medal and Bomber Command clasp and they could be sent out by next month