Row over Tudor Grange Academy admission change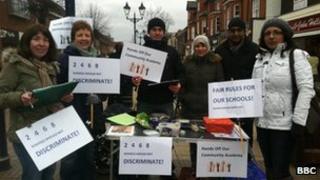 A proposal by an academy school to give priority for admission to two Church of England Schools has led to protests by some parents.
Tudor Grange Academy, a non-faith school in Solihull, West Midlands, wants to change its admission policy to reflect the partnership with Tudor Grange Primary Academy St James and St Alphege C of E Junior School.
But the move has angered local parents who are campaigning against the plans.
Stuart Jameson, who hopes to send his two children to the school, said: "We happen to live a mile and a half from Tudor Grange Academy. It's our local school. I believe in secular schooling which is open to all people."
He is behind an internet protest against the plans. An e-petition has gathered more than 1,000 signatures and more than 350 people have joined a Facebook group.
The academy, which receives money direct from the government instead of the local authority, is a highly sought-after secondary school, prized by parents for being well-run and academically successful.
In the past decade, the number of Asians living in the area has doubled - many are middle-class professionals like Ishrat Mehboob. He moved to the area so he could raise his family alongside people of all faiths and he is worried the plans could result in religious segregation.
"My real fear is that this will lead to apartheid within the education system and that will be very negative and detrimental and will have a terrible effect on race relations in the area," he said.
Those concerns are shared by his wife Abda Mehboob. She said: "As Asians and Muslims you get criticised for not integrating enough into the wider community, so you end up with Muslim only schools or Asian only schools."
Although Tudor Grange is over-subscribed, council figures from last September show the school admitted 250 pupils - which significantly exceeds the number of children living in the catchment area for whom the school is their preference. It is believed the number of children which would be admitted from the two preferred faith schools would be around 50.
Tudor Grange is not a faith school but according to its website the reason for plans to give priority to children from the church schools is "to reflect its partnership with those primary schools".
In a statement, the headteacher Jennifer Bexon-Smith confirms that there are no plans to change Tudor Grange Academy to a faith school although there is an affiliation with the Birmingham Diocese of the Church of England.
The school maintains that places will be available to all catchment children who apply in the next few years.
A Department for Education spokesperson said: "We are aware that the Tudor Grange Academy is consulting on its oversubscription criteria. All those with an interest in the school are encouraged to respond to the consultation.
'Very aggrieved'
"All publicly funded schools, including academies, can set their own admissions arrangements as long as they are lawful and comply with the Admissions Code. Schools can also change their oversubscription criteria to include specific primary schools as long as the process is fair."
Mary Bousted, general secretary of teachers union the Association of Teachers & Lecturers (ATL) , says admissions rows are happening across the country.
She said: "There's actually nothing wrong with secondary schools federating with primary schools into a group of schools which work very closely together but when that moves into changing your admissions criteria, you have to look at the effect of that very carefully.
"What we're seeing in Tudor Grange Academy in Solihull is not just confined to Solihull. This is an issue which is rearing its ugly head in places like London. Across the country we're going to see more and more of these disputes as parents who moved into an area for a good local school find that because of their faith or their lack of faith they're not going to get access to the those schools and feel very aggrieved by it."
You can hear more on this story on Asian Network Reports today at 1300 GMT and 1700 GMT or listen back on the BBC iPlayer