Fire-hit builders merchants Carvers in rebuild before 2014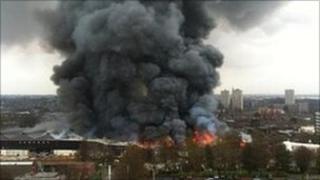 A builders merchants hopes its site will be fully rebuilt by the end of the year, after being destroyed by fire 12 months ago.
About £6m in damage was caused at Carvers in Littles Lane, Wolverhampton.
The 117-year-old family business said it hoped to complete two new main buildings by the end of June and a third before the start of 2014.
Carvers carried on by using temporary warehouses and employs about 200, roughly the same number as a year ago.
Nobody was hurt in the blaze, which was tackled by up to 75 firefighters and swept through the Carvers site on 29 February 2012.
Owner and managing director Henry Carver praised the "huge dedication" of staff since the fire, which was caused by "a malfunctioning flue pipe".
'Completely flexible'
He said: "We were fully operational in employing 95% of them within 10 weeks [of the fire].
"Of course there's been a huge amount of change of roles, constantly moving stock all over the place. Everyone has been completely flexible.
"The biggest single issue for us was we were profitable and we had a good workforce, so there was no reason why we couldn't build it up again... We've put a lifetime into the business."
Mr Carver said the cost of the damage, which includes about £4m for new buildings, was being "broadly covered" by insurers.
About £2m in stock was lost at the company, which sells timber and other materials to the building trade and the general public.
It has been a family business for five generations, after being started in 1896 in Willenhall by Harry Carver, with help from his brother Horace, and backing from their father, John.
They originally rented premises in what is now known as Bilston Street in Willenhall and the firm moved to the Littles Lane site in the early 1970s.