Birmingham fuel bill savers urged to knit for homeless people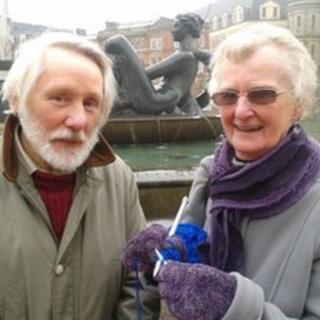 Residents in the West Midlands are being urged to knit hats for homeless people while they learn how to cut their fuel bills.
Those going to the energy information sessions at community centres are being encouraged to knit for the St Basils charity, helping homeless young people.
Birmingham and Solihull Together is a council-funded scheme to help people switch energy suppliers and save money.
About a dozen sessions will take place at community centres by 17 March.
The series of knitting events was kicked off in Victoria Square in Birmingham earlier, as members of the public and representatives from the city council and St Basils attended.
'Done hundreds'
Birmingham resident Chris Harding, 66, from Handsworth, said she had knitted for most of her life and finds it "relaxing".
She added: "I've done hundreds - I've done jumpers, toys, hats, gloves.
"People helped more when I was growing up. Nowadays, no disrespect, people are busy... [but] I've always been told if you can help somebody, help them."
Her husband of 28 years, Phil Harding, 65, said knitting at the sessions at community centres was "a good thing", adding: "It helps to pass the time away during the day."
Birmingham and Solihull Together said those gathering at the centres could "stay warm in convivial company" and help homeless people "keep the chill off" by knitting hats and scarves.
Its scheme allows people going to its website to switch energy suppliers using reduced tariffs that Birmingham and Solihull Together has negotiated.
Spokesman for the group Dr Robert Aston said: "The idea is to save people money, but also keep money in the local economy.
"If you save £100 on an energy bill a year, you're going to spend that locally in Birmingham and Solihull shops."
The group said those who cannot attend the sessions could instead form "their own knit-athon circles at places around the city".
St Basils chief executive Jean Templeton said the project was "a great idea".
She added: "It's... wonderful that those who are benefitting from lower bills as a result of taking part are helping those for whom such a scheme is, sadly, not applicable - but who will nevertheless be warmer as a result."