Spouthouse Aqueduct: Resin used to try and stop leaks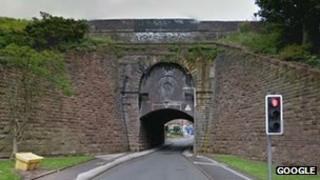 A Grade II listed aqueduct will be injected with a resin as part of a £120,000 project to try to plug long-standing leaks in the structure.
The Spouthouse Aqueduct in Sandwell was built in 1844 to carry the Tame Valley Canal over a road.
Specialists from the Canal and River Trust will inject the resin into holes they have drilled in the towpath.
The resin will fill any small holes within the brickwork and prevent further leaks, a spokesperson said.
Engineer Ian Lane said the trust had attempted "a number of repairs" over the years to stop the aqueduct leaking.
"We believe that the works we are doing now will finally plug the leaks and help protect this 169-year old aqueduct for many years to come," he said.
The 8.5 mile (14km) Tame Valley Canal was built to link the Walsall Canal with the Birmingham and Fazeley and Grand Union canals.
The Spouthouse Aqueduct is one of seven on the canal.