Kings Heath women 'died from blood loss and suffocation'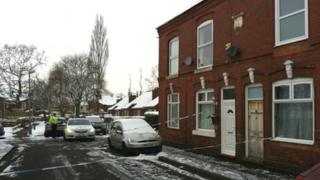 A mother and daughter whose bodies were discovered in Birmingham last month died from suffocation and blood loss, police have said.
Irene Sawyer, 95, and Kathleen Sawyer, 64, were found in a house on Balaclava Road, Kings Heath on 11 February.
Police are not looking for anyone else in connection with their deaths.
Post mortem examinations revealed that Mrs Sawyer had suffocated, while her daughter died from blood loss caused by a chest injury.
Officers said it was not clear whether Kathleen Sawyer's injuries were self-inflicted or the result of natural causes. The case has now been handed over to the coroner.
Officers and firefighters broke into the home in Kings Heath after the alarm had been raised by neighbours, who had not seen the women for some time.
Some neighbours saw the fire on in the women's home but were unable to get an answer at the door, police said.