Birmingham's Wholesale Markets: Council plans move to new site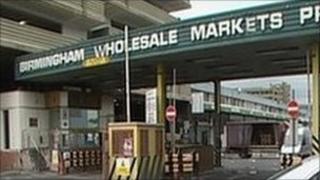 Birmingham Wholesale Markets is to move out of the city centre under plans being considered by the council.
The authority said the Pershore Street site has units which are not "fit for purpose" and is one third empty.
The city council wants to move the market to a new site at Witton or Washwood Heath in 2016.
Deputy leader Ian Ward said: "I know this is not what the traders want to hear but we are in challenging financial times."
Peter Marshall, vice-chairman of the Birmingham Wholesale Fresh Produce Association, said he was worried for "the long term future of the market".
'Business tight'
He said: "Our customers are here, we're next to the Bullring and to China Town, and if we move it could be detrimental to the market."
Keith Smith, who has run his business at the market for 20 years, said: "Business is tight and I'm concerned about moving and losing any more customers."
Mr Ward said the council "simply cannot afford the investment needed" to continue with the wholesale market in the current site.
Any solution needs to be "affordable to both the city council and the traders" which is why the council wants to move the market, he said.
But the authority refuses to release figures on how much it will cost to build the new market are not being released because they are confidential and involve a third party.
The council said the new market site would be half the size of the existing one, with 72 standard sized units available.
The current wholesale market is on a 21-acre site in Pershore Street. It includes horticultural, meat, fish and poultry markets.