'Unique' silverware stolen from Lord Peter Snape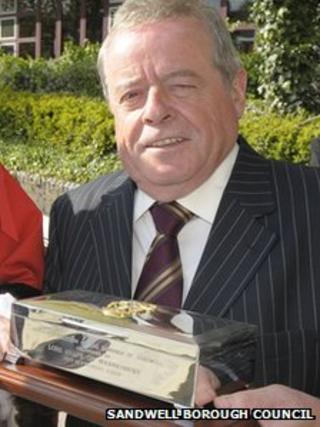 Silverware including a casket containing a Freeman of the Borough of Sandwell parchment scroll has been stolen from a peer's Birmingham home.
Burglars broke into the Hall Green home of Lord Peter Snape, a former MP for West Bromwich East, between Monday night and Tuesday morning.
As well as the scroll, the thieves took a silver coffee set with House of Commons motif and other items.
Many of the items are inscribed with Lord Snape's name.
A silver ice bucket, tray and silver bowl and an engraved silver-bound golf diary were also taken, along with a leather jacket, a wallet, £200 in cash and various other silver ornaments.
Lord Snape, who is also chairman of Stockport County football club, said the thieves broke in through a small window in the kitchen while he and his wife Linda were asleep.
The Labour peer, who first became an MP in 1974, said the stolen items had been given to him as gifts throughout his political career.
Lord Snape was given the Freedom of Sandwell in September 2009
He said it was the fifth time he had been burgled in the past 25 years.
Lord Snape said: "The insurance can't replace the stuff that's been engraved and awarded to me.
"These are gifts that have been given by my friends, my party colleagues and the borough of Sandwell. There's not really a replacement for them - you can get compensation but I would rather have them back."