Malcolm Parkes jailed after mowing down rival Terrence Powell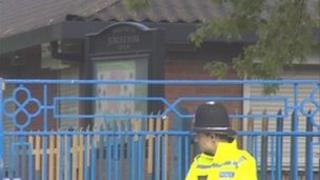 A man has been jailed for nine years for mowing down and killing a man he thought was his love rival as he sped through a West Midlands park.
Terrence Powell, 58, was found dead in Jubilee Park, Tipton, on 5 September.
At Warwick Crown Court, Malcolm Parkes, 51, of Arthur Road, Tipton, admitted manslaughter on the grounds of diminished responsibility.
Police said Parkes had seen Mr Powell walking arm-in-arm with his wife in the park that morning and "lost it".
Widowed father-of-two Mr Powell, who lived in Wednesbury, suffered multiple skull fractures, a cracked spine and 17 broken ribs. He died at the scene.
The court heard how Parkes would have been driving at between 27mph and 34mph when he hit Mr Powell.
Hugh O'Brien-Quinn, prosecuting, said Parkes' wife Jane lay cowering in the undergrowth with the family's dog.
He said Parkes stopped the car and said to her, "I hope you're feeling happy now - you deserved that".
Parkes admitted manslaughter on the grounds of diminished responsibility as he was diagnosed with depression after the onset of a muscle-wasting disease three years before the attack.
'Going down for murder'
The court heard that after the crash, Parkes rang his son saying, "Tell your brother to go and get the dog because I've just killed Dave [Mr Powell]".
Mr O'Brien-Quinn said Parkes also called a hospital in Birmingham where he was taking part in medical trials.
He said he left an answer-phone message saying he had discovered his wife was having an affair and had run over her boyfriend, so he would probably not be available for the rest of the trials because he was "going down for murder".
Officers said CCTV footage from the park showed Mr Powell's car driving into the park, shortly followed by Parkes' Vauxhall Astra.
They said the footage later showed the Astra leaving the park with damage to its windscreen.
Det Sgt Rob Bastin, said he hoped the sentence would "bring some comfort to a family that has had to deal with losing their loved one".