Birmingham motorway congestion 'harming economy'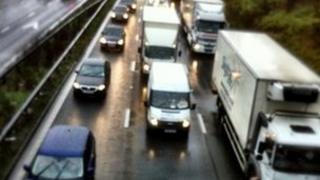 Congestion on West Midlands motorways is damaging the economy, Birmingham Chamber of Commerce has said.
The Highways Agency is continuing to make £105m improvements on the M6, designed to improve traffic flow.
Both carriageways are due to close overnight between junctions six and seven on Friday and Saturday night to allow further upgrades.
Jerry Blackett, the chamber's chief executive, said local firms had suffered delays and rising costs.
He said their reputations had also been damaged due to delays in delivering goods and services.
The chamber said a recent survey had shown almost half of construction and manufacturing companies had been badly affected, with 60% also reporting an increase in costs.
Overnight closures
Mr Blackett said: "These are difficult times and we must do all we can to remove these obstacles and ensure business in Birmingham is as competitive as it can be."
The Freight Transport Association said while the M6 closures would cause disruption, it was needed to improve congestion.
Malcolm Bingham, from the organisation, said most haulage companies would be able to plan around the closures and would benefit in the long term.
The Managed Motorway Scheme will see new technology added, designed to improve congestion.
It has already seen variable speed limits introduced and the hard shoulder opened up to vehicles.
The Highways Agency said installing new gantries across the motorway on Friday and Saturday night involved contractors working at heights of more than 14m (45ft) and full closures were necessary to ensure their safety.
The M6 will be closed between 22:00 and 08:00 GMT on Friday and from 20:00 to 08:00 GMT on Saturday, between junctions six and seven.
Further closures are also planned between junctions five and six next weekend.