Birmingham Wheels Park fears for the future in rent row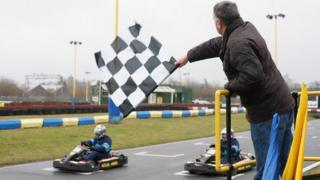 Tenants at a community motor sports park are fearing for the future after a proposed 260% rent increase.
Birmingham City Council said it wanted to change contracts at Birmingham Wheels Park in Saltley to allow tenants "to continue on a more secure basis".
The park was built with the probation service to give young people the chance to drive and ride motor vehicles in a safe and constructive way.
Opened in 1980, it is now owned by the council and run by a charitable trust.
The park is a base for traders and community groups offering karting, roller speed skating, motorcycle training and motor racing.
It is the UK's only purpose-built outdoor track for roller speed skating and can even boast a motor racing track once used by a young Nigel Mansell.
A council statement said it was a "difficult challenge" to make the 40-acre site viable as most of the charitable income and grants have stopped.
The Labour-led authority has asked The Birmingham Wheels Trust's director, Bob Beauchamp, to wind up the charitable organisation.
'We feel bullied'
Mr Beauchamp, who is a Conservative councillor, said: "They have not given any reason for closing the trust and I'm certainly not going to consider that until everyone here knows exactly where they stand and what their future is."
Site manager Mick Roberts said youth programmes are only run occasionally on the site now, blaming the withdrawal of council funding for youth services, though a community roller speed skating club still operates there.
The main income is now from corporate, individual and club bookings for karting, motor racing and motorbike training.
He said: "There were eight youth workers here once, now all made redundant, and the way school budgets changed hasn't helped either. But a considerable increase in rent here could put some of the traders out of business.
"The organisations here feel bullied."
He said rent is currently £22,000 a year but an increase to £80,000 has been suggested by the council.
He fears the authority wants to replace the current rolling agreements with fixed leases because these would be easier to end if it decided to sell the land for redevelopment.
'Viable future'
John Keattch, director of Grand Prix Karting which operates on the site, said: "No-one from the council's come here to see how the place works.
"Everyone here works really hard and the facility at the moment doesn't cost the council, it just doesn't earn them money either, and that's what rankles them."
A Birmingham City Council spokesperson said: "The council has been working with the trust and the users of the site for some time to create a viable future."
"The challenge is a difficult one as most of the charitable income and grants have ceased over recent years.
"Therefore the aim is to grant licences or leases to the main tenants for longer periods than currently exist to allow the main sporting and other uses to continue on a more secure basis. This dialogue is continuing and we are seeking a satisfactory conclusion for all."
An online petition called Save Birmingham Wheels Park & Raceway has received more than 1,500 signatures.