Meriden Gypsies drop appeal in ongoing planning row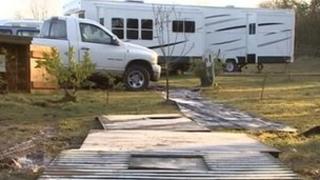 Gypsies in Meriden have dropped a legal appeal in an ongoing planning row.
The hearing, to challenge a previous decision to dismiss an appeal, was due at London's Court of Appeal on Tuesday.
Noah Burton, who has led the Gypsies' planning applications, said: "It was dropped because of money. You can only do so much, even with legal aid, and we're exhausting our funds."
Residents, who formed campaign group Meriden RAID, have vowed to continue protests until the Gypsies leave.
David McGrath said: "We refuse to tolerate a Dale Farm situation where legal battles are won but the travellers simply stay put and the council do nothing for a decade."
Mr Burton , who owns the land the Gypsies occupy, said the group has always abided by court rulings and will continue to use the legal system to argue their case.
Gypsies moved on to greenbelt land in Eaves Green Lane in March 2010 and reached an agreement with Solihull Borough Council to leave by the end of this month.
Last week, the council rejected a revised planning application for two temporary caravan pitches on a disused builders yard opposite the site.