West Midlands transport disrupted by heavy snow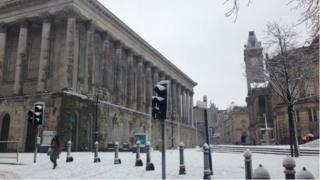 Heavy snow, which has fallen almost continuously across Birmingham and the Black Country over the last 24 hours, has caused travel delays.
Midland Metro said it was only running a service between Priestfield and Birmingham, with delays, due to adverse weather conditions.
Several trees also fell onto a railway line causing disruptions.
Birmingham Airport was open although a spokesman warned operations could be affected later, as snow continues.
Amber alert
London Midland reported several trees had fallen onto lines in the Barnt Green area, disrupting services between Hereford and Birmingham.
Services later resumed but with delays, a spokesman said. A tree also fell onto the line at Redditch, causing delays for a time.
An amber alert from the Met Office, which warns people to be prepared for disruption to normal routines and longer journey times, is likely to remain in place until Monday.
An Environment Agency spokesman warned that it would turn very cold later on Saturday night with the snow and slush freezing hard.
BBC WM reporter Rebecca Dickson said the snow was at least 1ft (30cm) deep in some areas, including Cannon Hill Park in Birmingham.
She said it was very quiet on the streets and roads, apart from some dog walkers.
Staff at Dudley Zoo got into work early to break the ice on frozen pools for the penguins and sealions and bring in additional heaters for meerkats and small primates.
Keepers also made warm drinks for the apes, a spokesman said. Their drink of choice is warm Ribena and orange cordial.