Wolverhampton to Birmingham tram system closed for two weeks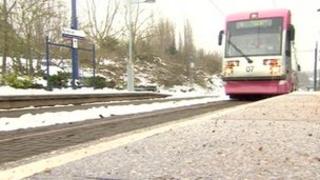 The Metro tram system that connects Wolverhampton to Birmingham has closed for two weeks.
Operator Centro has shut the lines to allow alterations to be made to platforms, so they can accommodate 20 longer trams when the service expands.
The Metro line is being extended by 1.4km (0.9miles) to link Snow Hill railway station with Birmingham New Street railway station from 2015.
During the closure, there will be replacement bus and rail services.
Geoff Inskip, chief executive of Centro, said: "Clearly lots and lots more people want to use it [the tram route] if they could… Therefore we need to build that capacity in.
"We will be bringing in bigger trams, and with the additional service we can put in, there will be 40% more capacity in the system."
Trams have been absent from the city centre since 1953.