Aston church protests at Easter Premier League game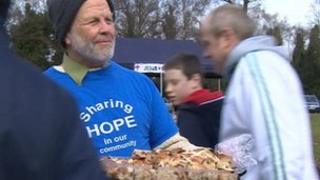 A protest has been held by churchgoers in Birmingham over the decision to play a football match on Easter Sunday.
Worshippers at Aston Parish church staged the demonstration outside nearby Villa Park before Aston Villa's match with Liverpool.
The vicar, the Reverend Andy Jolley, said Easter Sunday "should remain a special day for families."
He said he had written to the Premier League and BSkyB, which broadcast the game, but neither had replied.
Aston Parish Church on Witton Lane is a third of a mile from Villa Park.
Previous protests
Mr Jolley said they had held a "generous protest" by handing out hot cross buns and giving their Easter message to fans arriving for the match.
He said: "It's the third time we've had matches on Easter Sunday in the last eight years and it is frustrating.
"All the shops around here will be closed today because they are not allowed to trade on Easter Sunday.
"It's a day which legislation has recognised as a special one for families.
"[The match] takes people in Aston's attention immediately away from what is the focus of the day which is Easter and Jesus's resurrection."
Mr Jolley said he had had meetings with Aston Villa and the club had offered parking spaces and a minibus to help members of the congregation go to church.
Protests first took place at Aston Parish Church over Easter matches in 1999 when the vicar at that time, Reverend Keith Sinclair, rang church bells during a match with Chelsea.