Sandwell councillor Bob Badham resigns from post over Ofsted report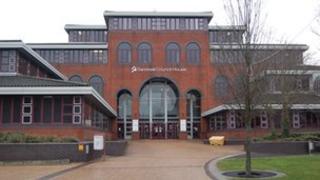 A councillor has resigned as cabinet member for children and families after a local authority was found to be failing vulnerable children.
Bob Badham, of Sandwell Council, took the decision following a critical Ofsted report into child protection.
It follows the resignation of Helen Smith, the director of children's services, on Tuesday.
The inspection in February found the council's child protection services were "inadequate".
'Tougher and tougher'
Mr Badham said: "I think we have made a lot of progress, but I think the problem is that the Ofsted inspections are now done on the spur of the moment, with no notice at all.
"They are, in everybody's eyes, getting tougher and tougher. At this particular point in time, I think that I've probably put as much time and effort in as I possibly can.
"It's probably time now to let somebody else with a fresh pair of eyes have a look at the situation and try and stamp their authority on to the role as well."
"Ofsted inspections are undoubtedly getting tougher, but I don't want to use that as an excuse in any way. They should be as tough as they need to be. Child protection should be a priority for everyone.
"We told Ofsted we would fail an inspection, and we became the first council in the country to bring in a private sector partner to work with us to get children's services to where they should be.
"Our partner iMPOWER had only been with us two months before the inspection... If it had taken place later this year I am confident our children's services would have had a much better rating."
Level of service
Sandra Lescott-Robinson, head of the NSPCC in the West Midlands, said: "Effective and high quality child protection services are a non-negotiable part of what local authorities must provide and the standards that are set ensure that children actually receive the quality of service that they need to keep them safe.
"It isn't about being tough, this is about delivering the level of service that children need to be protected."
The council said it was taking "immediate steps" to make improvements and was investing in more social workers to help resolve the problem.
The Ofsted report said that families of vulnerable children were insufficiently supported by the council's services leaving them at "risk of significant harm".
Sandwell Council said it was already aware of serious problems and as a result had signed up with a private sector partner, iMPOWER to improve services.
As well as taking on 70 extra social workers over the past year, the local authority said it was making improvements to working relationships between staff and police.