Probation changes may see reoffending rise, say Birmingham city council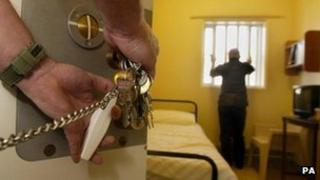 Planned changes to the probation service could lead to a rise in reoffending in the West Midlands, a council report has claimed.
The government is planning an overhaul of the service in England and Wales which would see low-risk offenders supervised by the private sector.
The Birmingham City Council study shows that city reoffending rates of 6% are below the government target of 8%.
It claims that changes to the system "could lead to a rise in crime".
The report is due to be discussed by the council next week.
Councillor Waseem Zaffar, who wrote the report, said he believed some offenders would not get as much supervision when they come out of jail as they do presently.
He said: "What the government is doing here is tearing up a good system that is working really well.
"This will crowd out good voluntary sector organisations which are working effectively with the probation service and the results convey that."
'Cast iron'
In the last two years, West Midlands Police has tripled the number of staff working with criminals to stop them reoffending.
Recent figures showed Dudley borough was the most successful area in England for cutting reoffending rates with Walsall, Wolverhampton, Sandwell, Solihull, and Birmingham all in the top 25 best performing local authority areas.
Mr Zaffar said that success was down to a "cast iron" relationship between police, local charities, probation workers and training providers.
Under the Ministry of Justice's (MoJ) proposals, responsibility for monitoring about 200,000 medium and low-risk offenders will transfer to the private sector.
Private companies and charitable bodies successfully bidding for contracts will be paid according to their results in cutting reoffending.
However, the public probation service will continue to supervise about 50,000 high-risk individuals, including all serious violent and sexual offenders.
The MoJ said the changes were needed to tackle the high reoffending rates across England and Wales.
It said 58% of short-sentenced prisoners committed a crime within a year and half a million offences were committed each year by released prisoners.