Shane Watson murder: Two teenagers guilty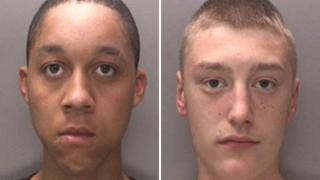 A 19-year-old man has been found guilty of murdering a man who was beaten to death in an alleyway.
Shane Watson, 23, died from head injuries after being attacked in the alleyway in Springfield Grove in Sedgley, West Midlands on 28 July 2012.
Shylon Wishart, of North Springfield in Sedgley was found guilty of murder by a jury at Wolverhampton Crown Court.
James Cartwright, 18, from Sandyfields Road in Sedgley, had pleaded guilty to the charge at an earlier hearing.
Both men will be sentenced on a date to be fixed.
The court heard that Wishart, who had denied murder, and Cartwright had been on a night out and had asked Mr Watson for a cigarette.
When he told them he didn't have one, the two men attacked him.
'Cruel and degrading attack'
Both defendants took pictures of his beaten up body with their mobile phones.
Mr Watson had been out with his girlfriend in a Sedgley nightclub until the early hours of the morning. They became separated and Mr Watson was later found in the alleyway by his girlfriend and his mother.
Cartwright and Wishart were arrested at their respective homes on the afternoon of 28 July, police said.
Det Insp Nigel Harrison from West Midlands Police said: "The community was shocked and dumbfounded by the circumstances around Shane's death.
"Local people were brilliant and showed a lot of courage to come forward with information just hours after the attack enabling us to act straight away to arrest the two in the afternoon while they were still in their beds.
"I hope that this conviction will provide some shred of comfort to Shane's family and friends and our thoughts remain with them at this very difficult time."
In a statement Shane Watson's mother, Jane Watson, said he was a "fun loving, family orientated man."
She said: "I struggle to put into words the scene that I was faced with when I saw Shane lying by himself in the alleyway, it would be any mother's worst nightmare but it is a reality for me.
"I relive the images in my head everyday and cannot erase the painful memory of seeing Shane and hearing the voices of the people responsible for such a nasty, cruel and degrading attack.
"The people responsible took his dignity, his life and my only son.
"Me and (Shane's father) Steven both idolised Shane, he was the single most important person in our lives and to see him so badly hurt has devastated us beyond words."