Martin Foran 1985 robbery conviction quashed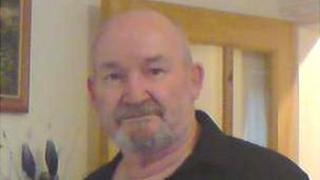 A man who had his conviction for robbery quashed after a 28-year fight for justice has described it as a "nightmare of a journey".
Martin Foran, 69, was jailed for eight years in 1985 after a Birmingham publican was attacked in his home.
He had denied making a confession while being questioned by officers and the conviction was quashed by the Court of Appeal on Tuesday.
Mr Foran said the fight had been difficult for his whole family.
He said: "I'm grateful to the three judges for opening their eyes at last, but how can I be grateful after all these years? I'm almost 70 and in poor health.
'Notorious'
"The only thing that kept me going is my family. We kept fighting and fighting. I wanted to prove to my children that I was innocent."
Mr Foran, originally from Shard End in Birmingham but now living in Manchester, had twice unsuccessfully appealed against the original decision at Birmingham Crown Court.
On his third attempt, the case was sent to the Court of Appeal after new information came to light regarding the credibility of the main police witness, the Criminal Cases Review Commission (CCRC) said.
Lord Justice Leveson, who led the appeal panel, said the reliability of evidence from a police officer meant the conviction "cannot be regarded as safe".
At the hearing in London, he said Mr Foran had been interviewed by a member of the "notorious" West Midlands Serious Crime Squad.
The unit was disbanded in 1989.
During the hearing, Lord Justice Leveson said "malpractice" in connection with the serious crime squad included "physical abuse of prisoners, fabrication of admissions, planting of evidence and mishandling of informants".
'Hunger strike'
"The Criminal Cases Review Commission has concluded that there is a real possibility that the convictions will not be upheld in the light of information not previously considered regarding the credibility of the principal police witness, Detective Inspector Paul Matthews, a member of the now notorious West Midlands Police Serious Crime Squad, who interviewed the appellant.
"Detective Inspector Matthews has been identified in a number of cases of such malpractice and, in particular, has been associated with the fabrication of confessions," Lord Justice Leveson added.
Mr Foran said he had been battling the West Midlands Serious Crime Squad since 1977, when he was sentenced to 10 years for a separate robbery which he also denies.
He said he was also asking the CCRC to refer that case to the Court of Appeal.
"I protested on the prison roof, went on hunger strike, screaming that I was innocent. I was released in 1984 and within months I'm back in prison again.
"How many more innocent people are there out there? A lot of people have already died and others are near the edge. I just refused to give up."
Mr Foran said he was writing a book about his story, which is expected to be published later in the year.