Meriden Gypsies to leave camp after losing legal fight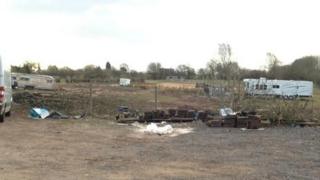 The last Gypsy family living on an illegal camp in the West Midlands have said they will leave the site later, after they lost a legal battle to stay.
The group of travellers failed to win a fight to remain at Eaves Green Lane in Meriden after a High Court judge dismissed two applications in March.
Seven families have left the six acre site ahead of Sunday's eviction deadline, leaving just one.
Local residents said a camp they set up in protest would stay until Monday.
The greenbelt land was purchased in 2009 for £100,000 by Noah Burton, the head of a Gypsy family, who put up eight caravan pitches.
In July 2010, Solihull Borough Council refused to give him retrospective planning permission, a decision upheld by Secretary of State Eric Pickles in October 2011.
After applications for scaled down plans also failed, the travellers reached an agreement with the council to leave the site by April 21.
'Getting squeezed'
Mr Burton said: "I genuinely think we're like an endangered species because our way of life is being taken away.
"We wanted a permanent site because it's now illegal to pull into lay-bys, park on village greens or even on the side of the road, so we're getting squeezed.
"This hasn't been about trying to be tricky or playing the system, it's about trying to find somewhere to live and you can't crucify me for trying."
Mr Burton said he would level the land and tidy up the site before trying to sell it.
The campaign group Residents Against Inappropriate Development (RAID), which has a protest camp opposite the site, said it wanted to stay "until the last of the travellers had gone."
RAID was served with an eviction notice by Solihull Borough Council at the beginning of April.
Doug Bacon, from the group said: "We have broken planning regulations ourselves but the council has been very, very firm in saying they will prosecute us if we don't go.
"We are bitterly disappointed that we aren't able to carry on our protest until the land is completely restored but it's important to stress while our camp is going our campaign continues."
Solihull Council unveiled plans to provide 31 permanent pitches for Gypsies and travellers by 2027 earlier this month.
In a draft plan the authority said it had identified four sites and that 19 pitches should be in place by 2017.