Company fails to clear Brierley Hill waste pile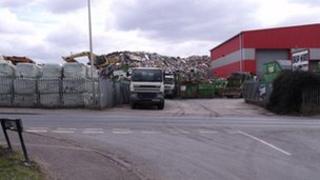 A firm responsible for a pile of rubbish in the West Midlands is expected to go back to court after after failing to meet a deadline to clear part of the site.
At one point the waste at Refuse Derived Fuel Ltd's (RDF) site in Brierley Hill stood 13m (42 feet) high.
Environment Agency inspectors found the company had failed to meet the terms of an injunction to clear waste from the front of the site by the end of March.
RDF declined to comment.
Last year the pile of waste towered over many homes in the area, until some 200 tonnes were cleared in October.
In December, an injunction granted to the Environment Agency by the High Court sitting in Birmingham called on the company to remove all waste visible from the main gate by 29 March and clear the site by 1 July.
The company was warned that it could face a fine or have assets seized if it failed to meet the deadlines.
Environment Agency inspectors said a visit on 4 April found waste and waste bales at the front of the site.
The agency's West Midlands manager David Hudson said it had now applied to the High Court for further hearings and would seek to prevent any further waste going onto the site.