Birmingham evil spirits murder family denied appeals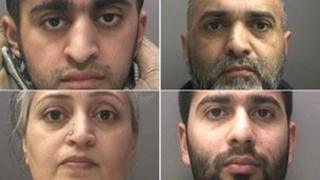 Four members of a family who murdered a pregnant woman they believed was possessed by an evil spirit have failed to get their convictions overturned.
Mohammed Mumtaz, 26, claimed his wife Naila, 21, tried to strangle herself at their Birmingham home in 2009.
He and his parents Zia Ul-Haq and Salma Aslam, both 51, and brother-in-law Hammad Hassan, 24, were all found guilty after a trial in July.
The Court of Appeal said they could not seek leave to appeal.
Lord Justice Pitchford, sitting at the London court with Mr Justice Rodderick Evans and Mr Justice Turner, rejected all their attempts to appeal the convictions, including that the trial judge Mr Justice Keith had misdirected the jury in his summing up.
Mrs Mutaz had arrived in the UK in 2008 after an arranged marriage in Pakistan the previous year, Birmingham Crown Court had heard.
The trail heard Mrs Mumtaz's in-laws thought she was possessed by evil spirits.
She was killed, while six-months pregnant, during attempts to render her unconscious to drive out a harmful "djinn" spirit.
Paramedics found her lifeless body in a bedroom of the house the family all lived at in Craythorne Avenue, Handsworth Wood, in the early hours of 8 July 2009. She was pronounced dead at hospital.
Mumtaz and his brother-in-law Hussan were jailed for a minimum of 13 years while Mumtaz's parents were told they would each serve a minimum of 15 years.