Birmingham gives freedom to 3rd Battalion The Rifles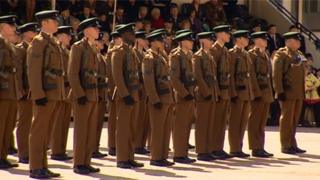 Members of the 3rd Battalion The Rifles paraded in Birmingham as they were awarded the freedom of the city.
The battalion was awarded the honour at a special ceremony in Victoria Square, at about 13:00 BST.
A scroll was presented to mark the occasion before some 100 Riflemen marched through the city's streets.
Lord Mayor of Birmingham John Lines, said the regiment had strong links with the city going back to the 19th Century and continued to recruit heavily there.
"As an ex-military man this is a special occasion for me, knowing there is approximately 100 Brummies currently serving in the five regular battalions, including The Rifles, fills me with a great sense of pride," he said.
Members of the battalion have recently returned from Afghanistan, where they mentored the national army.
The regiment was formed in 2007, but can trace its history back more than 200 years to the peninsular war against Napoleon's forces.
The Rifles was formed from The Devonshire and Dorset Light Infantry, The Light Infantry, The Royal Gloucestershire Berkshire and Wiltshire Light Infantry and The Royal Green Jackets.