Birmingham's Castle Vale: The cleanest place to buy a kebab?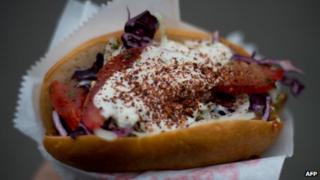 From fish and chips to curry and kebabs, one part of Birmingham is apparently the most hygienic place to buy your takeaway in the whole of England.
Castle Vale has been judged the place to go for the cleanest kitchens, properly stored food and staff who care about not upsetting your digestive system.
Consumer watchdog Which? looked at Food Standards Agency hygiene ratings since January 2011 and found that out of all the postcodes in England, B35 came top.
Customers at one of the area's establishments, the Castle Vale Fish Bar, said people came specially to the takeaway from other parts of the city because of its reputation.
"It's nice that you can trust somewhere," said customer Sue Leach, 56.
The chip shop proudly displays its five-star rating - the highest possible - on its front door.
Another customer Vicky Sakelis, 31, said she found it "reassuring" to know the food and hygiene are good.
"It does put you off if it is only two or three stars - I might not go in or I might think I'll go in and see," she said.
The shop's manager Vedat Okaner said he felt "happy and honoured" by the report's endorsement for takeaways in the area, which sits near the former Fort Dunlop tyre factory.
"It rewards all the hard work we do," he added.
He said he put his own high hygiene rating down to the dedication of his staff.
"Everyone knows what they are doing and they do it well," he said.
Worst area
Each business is given a hygiene rating after being inspected by a food safety officer from local councils.
Businesses are rated on a scale from nought to five, with three being "generally satisfactory".
In contrast to Castle Vale, the report showed in the DA7 postcode in Bexley, London, nearly half of the eateries inspected (45%) rated lower than "generally satisfactory".
Israt Choudhury, who works at B35's Chilli And Spice takeaway went to Walsall College for his hygiene training.
He said the business is inspected four or five times a year.
"They inspect our fridge, our food, the cleaning of floors, if our cooker is greasy or not, the temperature in the freezer, and how our food is prepared," he said.
The rating system applies to restaurants, pubs, cafes, takeaways and hotels as well as supermarkets and other food shops.
Food Standard Agency inspectors look at three different factors before they give the business a rating - how hygienically the food is handled, the condition of kitchens and how the business manages and records hygiene.
Yeohan Cunningham, hospitality academy manager at Birmingham Metropolitan College, teaches the next generation of catering staff how to create germ-free environments in their future kitchens.
Open-plan kitchens
He said he believed customers were now using the rating system to make their choice about where to eat.
"It's what people look at on the front of a door before they go into a business," Mr Cunningham said.
"A lot of my students go online to different websites, like Scores on the Doors, and check what the food safety and hygiene is like in the business first."
He added that increasing numbers of restaurant kitchens were now designed to be open-plan so customers could see how their food was prepared.
Mr Cunningham said Birmingham should be proud of the high scores its food outlets had achieved and the city should be "a benchmark" for the rest of the country.
Nadia Green, a food safety trainer at Bournville College, said the multi-cultural nature of Birmingham - particularly in its restaurant business - meant the college had cultural interpreters and courses translated into 16 languages.
She said the college had been working to change the attitude to food safety from the days when businesses would buy certificates on the black market.
"We're trying to emphasise that the training is more important than the certificate on the wall," she added.