Gurkiren Loyal death: Tests 'show brain infection'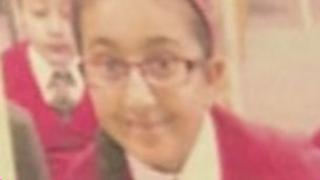 Tests carried out into how an eight-year-old girl died in a hospital in India have found there was evidence of infection around the brain.
Gurkiren Loyal's body was repatriated without some internal organs so it has not been possible to carry out a post-mortem examination in the UK.
Gurkiren, from Birmingham, fell ill on holiday in the Punjab in April.
She died suddenly following an injection after being diagnosed with mild dehydration at a clinic in Khanna.
The histopathology report into Gurkiren's death was written by doctors at Rajindra Hospital.
The report by the Government Medical College in Patiala also stated the child's liver had degraded, possibly due to the four days between her death and post-mortem examination and high temperatures in India.
'International protocol'
Gurkiren had been diagnosed with a heart defect years earlier but her mother said doctors had deemed her fit to fly to India.
The head of the hospital's pathology department, Dr Manjeet Singh Bal, denied any allegations of misuse of the organs.
He previously said he had retained her heart, lungs, brain and part of her liver at the department of pathology.
Dr Singh Bal said: "The organs were in the hospital and - due to an international protocol - the organs have to be extracted for an autopsy."
He said there was no possibility of any organ-harvesting and noted that only kidney transplantation takes place in the Punjab.
In those cases, the donor and recipient would be in the same room during the operation, which would only be carried out after exhaustive cross matching had taken place, Dr Singh Bal said.
There has been no response from Dr Singh Bal for a diagnosis as to a probable cause of death after requests by the BBC.
Gurkiren's mother Amrit Kaur Loyal said she was aware of the report but had not been given a copy of it or been contacted by the Indian authorities.
She said: "It's upsetting when you lose a child and none of the major authorities out there are willing to help you.
"I am really hurt deep down as a parent.
"They say brain disease, heart disease, but I personally believe it was the injection. It happened so quick."