Birmingham's new bins wheeled out to residents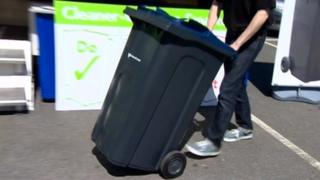 Birmingham's new wheelie bins are being delivered ahead of the first collections next week.
Brandwood, near Kings Heath, is the first place to get the new bins with residents in Harborne getting them in the middle of June.
Birmingham City Council has said wheelie bins would help modernise the service and make it more affordable in the long term.
Critics have described the bins as unsightly and an eyesore.
At the moment waste teams pick up plastic bin bags from street corners.
Some residents have said many people in the city do not have room to store the large new bins, with collections set to start on 3 June.
The council has promised all bins will be delivered marked with a property number to avoid any confusion.