Gurkiren Loyal death: Parents 'anger' at report release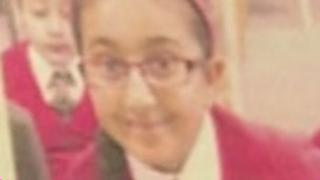 The parents of an eight-year-old girl who died in a hospital in India are "angry" a medical report was sent to the media, a councillor has said.
Gurkiren Loyal, from Birmingham, fell ill on holiday in April and died suddenly following an injection after being diagnosed with mild dehydration.
Her body was repatriated without some internal organs.
City councillor Narinder Kaur Kooner said the family also has concerns over the report's "authenticity".
The histopathology report into Gurkiren's death was written by the Government Medical College in Patiala and stated there was evidence of infection around the brain.
The head of the hospital's pathology department, Dr Manjeet Singh Bal, said: "The organs were in the hospital and - due to an international protocol - the organs have to be extracted for an autopsy."
Ms Kaur Kooner, who is helping the family have Gurkiren's organs returned, said the report should not have been disclosed in the way it was.
The Labour councillor for Handsworth Wood said: "The family are really angry.
"[Doctors have] spoken openly about Gurkiren's medical background that they found in the post-mortem report.
"They haven't felt that it was necessary to share that with the family.
"They've sent a report directly to the press and the first time the family have read it is in... the media.
"The family has spoken to independent doctors here in the UK and all have questioned authenticity of the report that's been released."
Ms Kaur Kooner added the family is seeking help from the Foreign Office and the Indian government in a bid to "have closure in this case".