Gurkiren Loyal death: Parents ask for Foreign Office help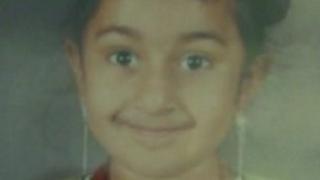 The parents of a girl whose organs were taken from her body after she died in India are due to meet with a Foreign Office minister later.
Gurkiren Loyal, from Birmingham, fell ill on holiday in April and died suddenly following an injection after being diagnosed with mild dehydration.
Her body was repatriated without some internal organs.
The family's MP, Shabana Mahmood, has arranged the meeting to ask for help getting Gurkiren's organs returned.
UK pathologists have been unable to carry out post-mortem tests without the missing organs.
Birmingham Coroner's Office has already requested their return.
Gurkiren became ill while visiting the Punjab with her family during the Easter holidays.
Her parents took her to a local GP for treatment, where they said she was given an injection of an unknown substance and fell ill immediately.
They said she was taken to hospital, but died by the time she arrived.