University of Birmingham studies gratitude attitudes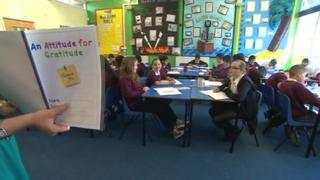 The importance of gratitude - in comparison with other emotions such as honesty, compassion and bravery - is being studied by academics in Birmingham.
The University of Birmingham's study will "seek to understand what kinds of situation lead to gratitude and what factors influence how grateful people feel".
People in the city have appeared in their own "thank you" video messages, as the university examines "gratitude in depth".
It is hoped 10,000 people will take part over up to three years, including those who went to the project's stand at the university's community open day on Sunday.
Members of the public went into a "thank you video booth" and had a message recorded which could be sent to them later, so they could forward it on to whoever they were thanking in the message.
'Get what they want'
At the open day people also used a large interactive "values board", where they moved cards to rank the values of gratitude, justice/fairness, honesty, compassion, humility, self control and courage/bravery.
Mohammed Sharif, from Hall Green, one of the people who took part with his daughter, said it was an interesting way for her to express herself.
He said: "At school they read books and write - here they use pictures and words, which they look at and decide how they rank them."
Mr Sharif said he had always encouraged his children to show gratitude, which was "an important concept for us".
Lynsey, a teaching assistant working in Birmingham, hoped the project could start "an important discussion".
She said: "There's not enough discussion of [gratitude] and people's values have changed over the years - they aren't respectful and they just get what they want."
Dr Liz Gulliford, a research fellow at The Jubilee Centre for Character and Values at the university, said: "We will examine whether gratitude is deemed an important character attribute and how it is perceived in relation to other values, such as honesty, justice, and compassion.
"We will address the question of whether some people are more grateful than others and why these individual differences might exist."
Pupils at Firs Primary School in Castle Bromwich have already taken part in the project, rating how grateful they think characters in a story would feel.
Other children at schools across the UK will also be involved over the next few months, responding to four stories as part of the research - called An Attitude for Gratitude.
The Jubilee Centre also wants adults and young people to fill out a questionnaire on its website.
'Greatest of virtues'
Dr Gulliford said one of the stories being given to children included a lifeguard carrying out a rescue saying he was just doing his job.
She added: "Some philosophers say if someone is just doing their job, gratitude is not warranted.
"It's all very well for philosophers to say that, but my intuition is people are grateful, regardless of whether the person was doing their job or not.
"What influences how grateful we feel could be the effort we perceive has been involved in the benefit.
"For example, if someone spent longer making a gift for us, would we feel more grateful because of the time they'd spent, or how much is it the thought that counts?
"We're investigating whether you have to be grateful to someone for something, or whether you can be grateful for something full stop, without there necessarily being a named benefactor."
Dr Gulliford said the researchers did not have a definition for gratitude, but were "building up towards a definition" as it took contributions from the public.
The project, which ends in May 2015, is examining "how people conceptualise gratitude, what people are grateful for and what value is placed on gratitude in our society".
The interactive "values board" will also be used in schools as part of the scheme and there will be a version of the board on the internet for adults as well.
Asked what the scheme hoped to achieve, Dr Gulliford said: "We hope to encourage people to think about gratitude and its place in our lives.
"We hope the project will have the practical benefits of promoting gratitude [and] strengthening our relationships with others, our appreciation of the world and our awareness of the good things we have.
"Roman philosopher Cicero said 'gratitude is not only the greatest of virtues, but the parent of all the others'.
"Obviously when we do the 'values board', we'll get to see where gratitude falls."