Gurkiren Loyal: Birmingham vigil for India death girl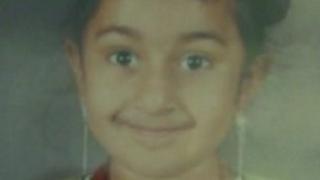 A candlelit vigil is being held in memory of a Birmingham girl who died during a family trip to India.
Gurkiren Loyal, from Birmingham, fell ill on holiday in April and died suddenly following an injection she received to treat mild dehydration.
Her body was repatriated but without some internal organs. Gurkiren's mother Amrit has been campaigning ever since to have the organs returned.
The vigil started in Centenary Square at 16:30 BST.
'Organs retained'
Her family requested people bring their own candles and wear an item of either red or pink clothing, which were Gurkiren's favourite colours.
UK pathologists have been unable to carry out their own post-mortem tests on her body because of the missing organs.
Birmingham Coroner's Office has requested their return.
The Indian authorities confirmed last month that Gurkiren's organs had been retained at the Government Medical College at Rajindra Hospital in Patiala for post-mortem tests.
But, two months after her death, her the family say they have not been given any idea about how she died.