Birmingham schools could outsource to save £20m a year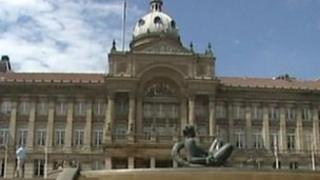 More schools in Birmingham could be asked to outsource services such as transport and school meals, in a bid by the city council to save money.
The authority said it was losing money from central government because of an increase in the number of academy schools. More outsourcing could save at least £20m a year, it added.
Labour councillor Brigid Jones said: "We have to consider things that would have been unpalatable a few years ago."
Unions have criticised the plans.
According to the Labour-led council, over half of secondary schools and around a third of primary schools in Birmingham will be academies by September.
Academies are independent, state-funded schools, which receive their funding directly from central government, rather than through a local authority.
'Improvement in quality'
Queensbridge School in Birmingham is run by the council but has the power to outsource some services.
Headteacher Tim Boyes said using private providers for school meals, occupational health and HR had benefited the secondary school.
He said: "When we switched, we saw an improvement in the quality of what the children ate. It wasn't hard to recognise and it's been easy to use the market place."
Anne Brimacombe, of the NASUWT union, said: "The council has the duty to provide special needs services to all schools.
"If these services are outsourced it could lead to the jobs of those staff being put at risk."
The authority must save £102m as part of it 2013-14 budget and it anticipates having a "funding gap" of £615m by 2017, £15m more than it expected in October.
Ms Jones said the council's position "means we do need to consider all options put on a table".
No-one was immediately available for comment from the Department For Education or the city council's Conservative group.