'Offensive' graffiti daubed on Cradley Heath Mosque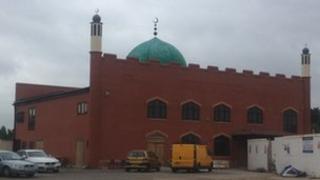 Graffiti described by police as "offensive" has been daubed on the wall of a mosque in the Black Country.
Council workmen removed the writing, which read "EDL never surrender", within hours of its discovery at the Cradley Heath Mosque on Monday.
Supt Bas Javid said officers were treating the vandalism as a hate crime.
He said that despite what had been written, it did not "necessarily mean that any particular group are responsible for it".
He added: "It could be anything from a prank to someone coming in to specially target that mosque."
Mr Javid said officers were working with the community to reassure them that police took this "type of graffiti seriously".
'Cowardly act'
He said officers had a good relationship with the mosque and urged anyone with information to come forward.
Ajaz Ahmad, from the mosque, said he was informed by police about the graffiti, which was found at the back of the building.
He said the local community had "some concerns" following the vandalism but said relationships between all neighbours in the area were "very good".
James Morris, the Conservative MP for Halesowen and Rowley Regis, said he was "very disappointed" to hear about the incident, which he called a "cowardly act".
He added: "We need to build a strong community in the West Midlands. We need better education in all sections of the community in order to do that."
Last week, a mosque being built in Redditch, Worcestershire, was broken into by thieves, who sprayed graffiti, including swastikas, over its walls and windows.