New £8m Heartlands Hospital pathology services unit opens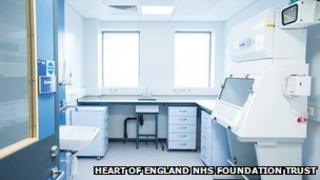 A new £8m specialist laboratory, which will analyse 50,000 cervical smear tests and blood samples a day, has opened at a hospital in Birmingham.
The new extension to the current pathology centre at Heartlands Hospital will carry out specialist testing for cervical cancer, Chlamydia and MRSA.
It will also process Tuberculosis (TB) tests from across the UK.
The hospital's 400 laboratory staff currently deal with more than 2.6m clinical samples every year.
The building has been funded by the Heart of England NHS Foundation Trust and Public Health England West Midlands.
Trust chairman Lord Hunt said it would allow them "to provide an improved service including an increased amount of samples turned around every year and 24-hour service for local GPs".