Tipton explosion: Community 'feels united'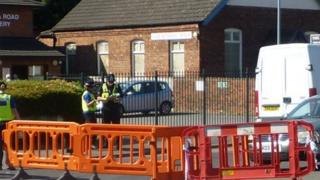 People in Tipton say their sense of community "has never been stronger" following Friday's explosion near a mosque.
For the last three days people in the normally peaceful West Midlands town have been left in shock, after a device was detonated on a disused railway line.
West Midlands Police said was an "an act of terrorism" and believe the "probable target" was the Kanz-ul-Iman Muslim Welfare Association Central Jamia Mosque in Binfield Street.
The road remains cordoned off to all except police vehicles but neighbours and shopkeepers living near the street are starting the week with a renewed, positive outlook.
Rather than an air of fear, there is calm on the streets and a quiet determination not to let the events of last week divide them.
'Closer together'
"The people of Tipton refuse to be judged by what happened on Friday," said shopkeeper Qumer Aslam.
"People are not rushing to judge. Whoever did this, it was designed to cause chaos in the community. But we won't let it happen.
"All this will do is bring us closer together."
The mosque reopened on Sunday evening after closing over the weekend, although the car park still remains closed to the public.
A counter terrorism investigation is under way and forensic scientists and officers from British Transport Police have been combing the area.
Karen Bowater, a chemist who works on nearby Park Lane East, said: "Of course everybody is still shaken. But I think it is because of this that we feel united.
"Everyone is doing their best to get back to a normal life, to not point the finger at one section of the community or the other.
"There has always been a very strong sense of community here, and now it has never been stronger."
Lifelong Park Lane East resident John Grindley, 63, said: "Nobody here knows who to blame, so basically nobody in the community is getting the blame.
"I just hope it stays this way. We are a tight community regardless of ethnic origin, and a bomb can't change that."