Driving test translator jailed over 200 exam cheats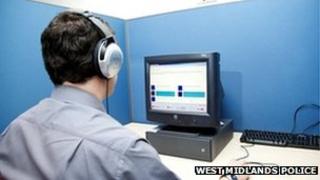 A Chinese translator in Birmingham has been jailed for helping 200 learner drivers cheat on theory exams.
Peter Hui was approved by the Driving Standards Agency (DSA) to translate multiple choice questions in Mandarin for foreign applicants but was also providing answers for a fee.
On Monday at Birmingham Crown Court Hui, from Nash Square in Perry Barr, was sentenced to 12 months in prison.
Police believe the illegal practice made him up to £100,000.
DSA officials became suspicious when the number of prospective drivers choosing to be represented by the 55-year-old interpreter increased rapidly.
An investigation revealed Hui aided more than 200 candidates to pass by agreeing a cheat's code which involved him saying "shi", the Mandarin for "yes", before reading out the answer he believed was correct.
Hui admitted conspiring to defraud the DSA when he was arrested at the Birmingham test centre, in Dale End's McLaren Building, on 21 August 2012.
Police finance investigators are looking to recover illegally-obtained cash and assets from Hui.
'Pedestrians at risk'
Det Con Mark Calvert, from West Midlands Police, said: "This was a serious fraud that potentially put road users and pedestrians at risk by putting people behind the wheel of vehicles when they were not properly qualified or competent enough to drive."
Two candidates who admitted paying Hui, a 25-year-old man from Smethwick and a 45-year-old man from Highgate, admitted a charge of conspiracy to commit fraud and were ordered to carry out 80 hours of unpaid work and pay £100 costs.
Their theory test passes were revoked.
The court heard how the younger man hired Hui on 3 February last year having failed his first theory exam attempt and hearing rumours that Hui's methods could guarantee a pass.
They agreed the "shi" cheat's code and a fee of £120 before the test, and audio recordings later showed Hui indicated the right answer on 40 of the 50 questions posed.
The 45-year-old, a chef, was approached by Hui as he left the McLaren Building having failed his theory exam.
He agreed to a fee of £250 for the same system and went on to pass the test, even though Hui's answers were not always correct.
Det Con Calvert added: "He obviously thought it was easy money and that, as the cheat's code was in Mandarin, assumed the DSA and police would be oblivious.
"He was wrong and is now paying the price for his con."
Last week officers from West Midlands Police arrested an Urdu translator suspected of helping bus and lorry drivers cheat on theory tests.
A 39-year-old man from Alum Rock was bailed until September.
DSA's head of fraud and integrity Andy Rice, said: "Anyone who tries to circumvent this process is putting innocent road users at risk."