City council 'will cut services' to save £86m by 2018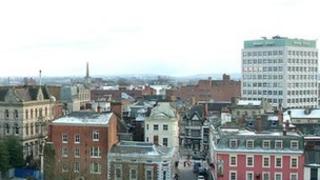 A senior Wolverhampton councillor has said services will be cut or stopped as the authority tries to wipe out an £86m deficit over the next five years.
Councillor Andrew Johnson, cabinet member for resources, said the city faced "more years of austerity" as it tried to fill the "colossal gap."
He said the council had "no room to manoeuvre" after recently making £100m savings, so services would be hit.
The council's cabinet will decide next week which services will be affected.
The savings must be made by 2018/19.
'Years of austerity'
Mr Johnson said: "Having identified savings in the region of £100m over the last five financial years, we simply have no room to manoeuvre.
"As a result, we will certainly have to change some of our frontline services in order to protect them, and other services will have to be cut and some stopped altogether.
"The budget gap is colossal. As a council and as a city, we are facing many more years of austerity."
The latest forecast is reported in the Draft Budget Strategy 2014/2015 and Medium Term Financial Strategy, which takes into account the government's 2013 Spending Review.